Public Health Nutrition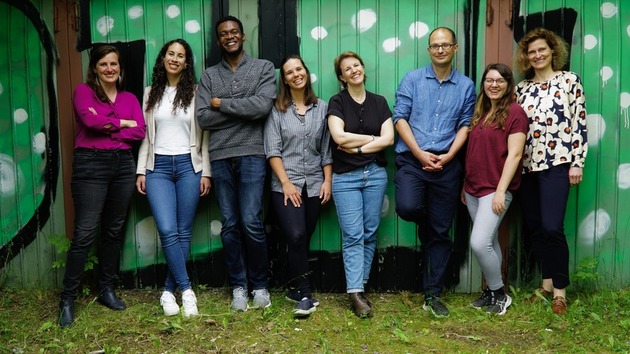 Diese Seite auf Deutsch.
Our work focuses on the prevention of diet-related non-communicable diseases, with a particular focus on policies to support healthy and sustainable diets on a population level. In our research, we use a broad spectrum of methods, conducting qualitative, mixed-methods and quasi-experimental studies, as well as evidence syntheses, including systematic reviews, scoping reviews and public health guidelines. We work closely with policy and practice stakeholders to ensure the relevance and impact of our work.
Team lead: Dr Peter von Philipsborn
Science Managerin: Dr. Melissa Theurich
Current projects
BMBF- Junior Research Group "Food Environments for Planetary Health" (2022-2027, project brief)
FoodSAMSA - Food environments in Africa: Addressing Malnutrition using a Syndemics Approach (2021-2024, Project website)
Mensa Plus – Gesund, nachhaltig, partizipativ (2023)
Past projects
PEN - Policy Evaluation Network for Policies affecting Dietary and Physical Activity (2019-2022, Project website)
Current team members
| | | | |
| --- | --- | --- | --- |
| Name | Title | Telephone | E-mail |
| Karin Geffert | Dr. med. | +49 (0) 89 / 2180-78234 | kgeffert@ibe.med.uni-muenchen.de |
| Nicole Holliday | M.Sc. | +49 (0) 89 / 2180-78234 | nicole.holliday@ibe.med.uni-muenchen.de |
| Carmen Klinger | M.Sc. | +49 (0) 89 / 2180-78234 | cklinger@ibe.med.uni-muenchen.de |
| Suzie Kratzer | MD | +49 (0) 89 / 2180-78234 | suzie.kratzer@ibe.med.uni-muenchen.de |
| Anna Leibinger | BSc., M.A. | +49 (0) 89 / 2180-78234 | anna.leibinger@ibe.med.uni-muenchen.de |
| Katharina Mörschel | MD, M.Sc. | +49 (0) 89 / 2180-78234 | k.moerschel@outlook.de |
| Elochukwu Okanmelu | MD, MHE, M.Sc. | +49 (0) 89 / 2180-78234 | elochukwu.okanmelu@ibe.med.uni-muenchen.de |
| Peter von Philipsborn | MD, M.Sc., M.A. | +49 (0) 178 / 4983-817 | pphilipsborn@ibe.med.uni-muenchen.de |
| Eva Rehfuess | Univ. Prof. Dr. BA MA(Oxon) PhD | +49 (0) 89 / 2180-78224 | rehfuess@ibe.med.uni-muenchen.de |
| Melissa Theurich | Dr. rer. hum. biol, MPH, B.Sc. | +49 (0) 89 / 2180-78234 | melissa.theurich@ibe.med.uni-muenchen.de |
Former team members
Selected publications
Complete list of publications on PubMed
Holliday N, Leibinger A, Huizinga O, Klinger C, Okanmelu E, Geffert K, Rehfuess E, von Philipsborn P: Use of the WHO Nutrient Profile Model for food marketing regulation in Germany: feasibility and public health implications. Submitted to Obesity Facts 2023, published as preprint on medRxiv at https://doi.org/10.1101/2023.04.24.23288785.
von Philipsborn P, Huizinga O, Leibinger A, Rubin D, Burns J, Emmert-Fees K, Pedron S, Laxy M, Rehfuess E.: Interim Evaluation of Germany's Sugar Reduction Strategy for Soft Drinks: Commitments versus Actual Trends in Sugar Content and Sugar Sales from Soft Drinks. Annals of Nutrition and Metabolism 2023, https://doi.org/10.1159/000529592.
von Philipsborn P, Geffert K, Klinger C, Hebestreit A, Stratil J, Rehfuess E. Nutrition Policies in Germany: A Systematic Assessment with the Food Environment Policy Index. (Food-EPI). Public Health Nutrition 2021. (Online, open access)
von Philipsborn P, Stratil JM, Burns J, Busert LK, Pfadenhauer LM, Polus S, Holzapfel C, Hauner H, Rehfuess E. Environmental interventions to reduce the consumption of sugar‐sweetened beverages and their effects on health. Cochrane Database of Systematic Reviews 2019, Issue 6. Art. No.: CD012292. DOI: 10.1002/14651858.CD012292.pub2. (Online, open access)
Teaching
Public Health Nutrition (1-week intensive course in the Master Programme in Public Health and Epidemiology and the PhD Programme Public Health & Epidemiology, LMU Munich; Course outline)
Disease Prevention and Health Promotion (part of the lecture series on Public Health Policies and Practices, Master Programme Public Health, LMU Munich, since 2018)
Nutrition and Metabolic Diseases (part of the lecture series on basics of medicine, Master Programme Public Health, LMU Munich, since 2019)
Food Systems, Climate Change and Global Health (10-day summer school course for the German National Academic Scholarship Foundation or Studienstiftung des Deutschen Volkes, August 2022; Course guide in German)