Psychosocial Factors Relevant to Brain Disorders in Europe - PARADISE

Description
The PARADISE Coordination Action was an EC-funded project with the goal of testing and implementing a novel approach to collecting comparable data about psychosocial difficulties experienced in common by individuals with brain disorders (or neuropsychiatric conditions). To test this approach, the PARADISE project selected a representative and heterogeneous sample of conditions: dementia, depression, epilepsy, migraine, multiple sclerosis, Parkinson's disease, schizophrenia, stroke and substance dependency.
The motivation for PARADISE was the realization that although there is strong evidence that the overall personal, social and economic costs of brain disorders are high, these costs have been underestimated. This is because of a lack of relevant data. These disorders have been defined in terms of diagnostic criteria which, though invaluable in identifying the underlying health problem and its aetiology, will not include the full range of psychosocial difficulties that actually shape the lived experience of persons with these disorders. More recently the Resolution of 19 February, 2009 on Mental Health at the European Parliament has called for 'an integrated and coordinated' mental health strategy to serve the needs of people with brain disorders.
The theoretical foundation of PARADISE is that the lived experience of persons with brain disorders is only partially explained by the specific signs and symptoms of any given health condition. In addition, the difficulties people with these conditions experience in their day-to-day lives – the difficulties and problems that matter to them – are outcomes of an interaction between their health conditions and physical, social and attitudinal features of the world in which they live, as well as psychological factors that make up their individuality. These difficulties and problems – called disabilities in the International Classification of Functioning, Disability and Health (ICF, WHO, 2001) – are experienced as obstacles to full participation in all areas of life, such as self-care, education and employment, family and community life. The working hypothesis of the PARADISE project was horizontal epidemiology – the claim that the psychosocial difficulties that matter to people and shape their lives, are experienced across brain disorders and, hence, need to be measured comparably in order to understand the relative burden of brain disorders.
The final product of PARADISE is a Protocol with 24 questions on psychosocial difficulties, from which a profile of psychosocial difficulties of patients can be generated and compared, or a summary score created as a measure of the extent of difficulties. The Protocol in addition includes 11 determinants of the extent of difficulty, which also have been operationalized by clear, easy to comprehend questions.
The PARADISE project results provided the evidence for five recommendations intended to guide European countries in the collection and analysis of data concerning psychosocial difficulties associated with brain disorders, as well as environmental and individual psychological determinants of the onset, extent and course of these difficulties. These recommendations in addition focus on the feasibility and importance of systematic data collection and analysis for the development and evaluation of health and social interventions that can address the psychosocial difficulties experienced in common by individuals with brain disorders. These difficulties are associated with the underlying health conditions, but are shaped by social and attitudinal environmental factors and individual psychological factors. Although the features of brain disorders constitute serious health problems that must be addressed, the PARADISE results show that, in addition, psychosocial difficulties constitute the obstacles individuals with these conditions confront in their lives – obstacles that limit their inclusion and full participation in society.
The Final PARADISE Meeting, held in Brussels on February 20th, 2013 was an opportunity for the PARADISE consortium to present and discuss the five PARADISE Recommendations, with a focus on the potential impact of these recommendations on major European players in brain disorder research and policy development, European Commission, WHO, and the European Brain Council, as well as among prominent researchers and other stakeholders.
Cooperation partners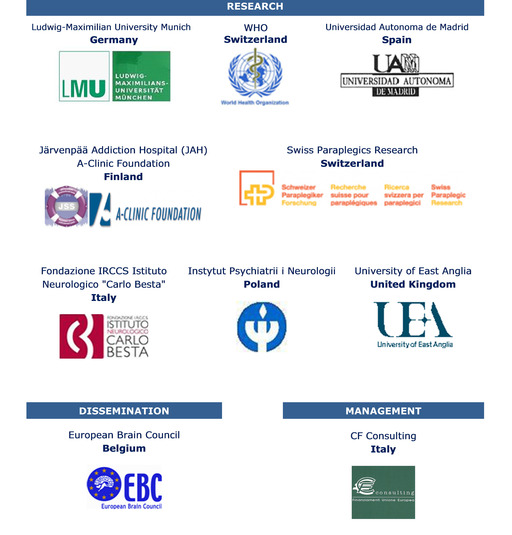 Duration
01/2010 – 06/2013
Funding
Funded by the European Union under the Seventh Framework Programme
Responsibilities
Prof. Alarcos Cieza (Coordinator)
Dr. Carla Sabariego, MPH
Research Unit for Biopsychosocial Health

Dr. Michaela Coenen, MPH
Research Unit for Biopsychosocial Health
Contact
Dr. Carla Sabariego, MPH
Research Unit for Biopsychosocial Health
Carla.Sabariego@med.lmu.de
Dr. Michaela Coenen, MPH
Research Unit for Biopsychosocial Health
Michaela.Coenen@med.lmu.de
Links